PROHOLD® – Hydraulic Tombstones® Product Line
Removable Hydraulic Custom Tooling Faceplates for Standard Hydraulic Tombstones
Standard Hydraulic Tombstones for HAAS HMCs with Top Jaw Tooling Installed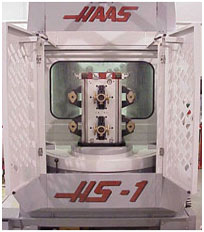 Close-up of 3-Jaw
Chucking Station Face
PROHOLD® Standard Flexible Hydraulic Tombstones provide an underlying versatile workholding system. These may be used as a simple mechanical modular tombstone for one part runs, or fitted with four sides of special designed hydraulic setups requiring thousands of part runs. When the part run is complete, the faceplate setups are removed and stored, and the fixture is refitted with another faceplate arrangement of parts.
Key Features:
• An internal 24-volt closed loop hydraulic pump unit, 3800 psi. capable, supplies the oil pressure. It uses an external 24-volt DC power supply for the electric current to run the internal pumping unit at the load/unload station of the machine tool.
• When the faceplates are not in use, the tank and pressure ports on each face of the tombstone are sealed with a #2 SAE plug. One pin top and one pin bottom locate a plate on a tombstone face.
• Mounting bolts are ½-13 socket heads which may be randomly located on the grid pattern so as not to interfere with a part/swingclamp location design.
• When installed, each faceplate is supplied with hydraulic fluid power from the tombstone internal hydraulic pump unit, through the tank and pressure porting on each tombstone face and O-ring seals on the backside of the faceplate.
• Each face is independent of the others and is actuated by an open/close valve at the top right hand side of the tombstone.
• Pressure is held in the circuit by a check valve and accumulator within the central hydraulic system.
More Standard Hydraulic Tombstones
Three jaw and two jaw chucking tombstones are available in four, eight, and twelve chuck models with the internal hydraulic power unit. These are also available in a two or four chuck Tee plate design the faces being 180 degrees out. Each chuck or each face of chucks are operated independent of the others. Diameter range is 0-8" through 42". Using bolt on or quick change custom aluminum soft jaws or machinable steel jaws on any of the chucking stations provides a very versatile and flexible system capable of holding round, rectangular or irregular shaped parts on one fixturing tombstone base. A sequenced centerline pullback clamping shaft for added clamping force on the part for extra-heavy stock removal with minimal amount of chuck jaw surface contact on the part is available. The pullback clamp can be sequenced to pull the part back against the jaws prior to the jaws clamping onto the part or vise versa.
A 2-jaw eight station fixture with added locating/clamping components for the machining of U-joint yokes is pictured. These fixtures are capable of running a large mix of sizes and geometries of yokes in the same eight
For more information regarding our Hydraulic Tombstones please fill out the form below and a representative will contact you as soon as possible.