PROHOLD® – Hydraulic Pumps
PROHOLD® Product Line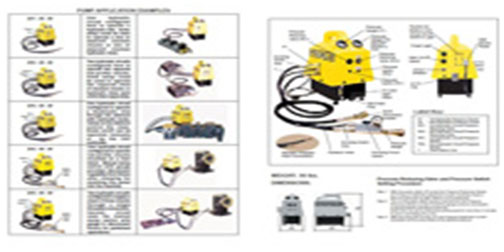 Pump Application Examples
PROHOLD® external hydraulic pumps run on demand only, and are ideally configured to operate ProHold® workholding products as well as or other hydraulically actuated equipment. Available with single or dual hydraulic circuits which operate independent of each other they provide external access, manually adjustable working pressures of 300 – 3800 psi.
Key Features:
• Automatically runs on demand only
• Solid State start/stop relay
• Extremely quiet operation
• Built-in handle for easy portability
• Easily accessible pressure readings/settings
• Tank drain, fill and sight glass
• Single or dual hydraulic circuit capable
• AC 115V, 50/60 Hz, 3/4 HP motor; AC 220V, 50/60 Hz
• 1.5 gallon pump capacity
• Tank low level float switch shut off, sight glass mounted on front of tank
• Automation capable with additional accessory electric solenoid valve pack
• Threaded or quick-disconnect hydraulic hose and fittings available
• Externally adjustable pressure from 300 – 3800 psi
For more information regarding our Hydraulic Pumps please fill out the form below and a representative will contact you as soon as possible.